Want to work with a team that has demonstrated a track record when it comes to versatility and expertise? Struggling to find someone who can handle multiple projects for you? Well, look no further because Paradem is here to help!
Located in the very heart of Calgary, Canada, we are a software development and product consulting company that has been in the business since 2013. Since our inception, we've had the wonderful opportunity to work on various projects and challenges — one of them is actually featured on our inaugural review on Clutch!
Clutch is an established B2B review and market research platform headquartered in Washington DC. The site collects verified feedback from thousands of corporate clients and publishes them to help potential buyers to learn more.
Paradem Consulting recently debuted on the platform, and we're here to share our amazing 5-star review!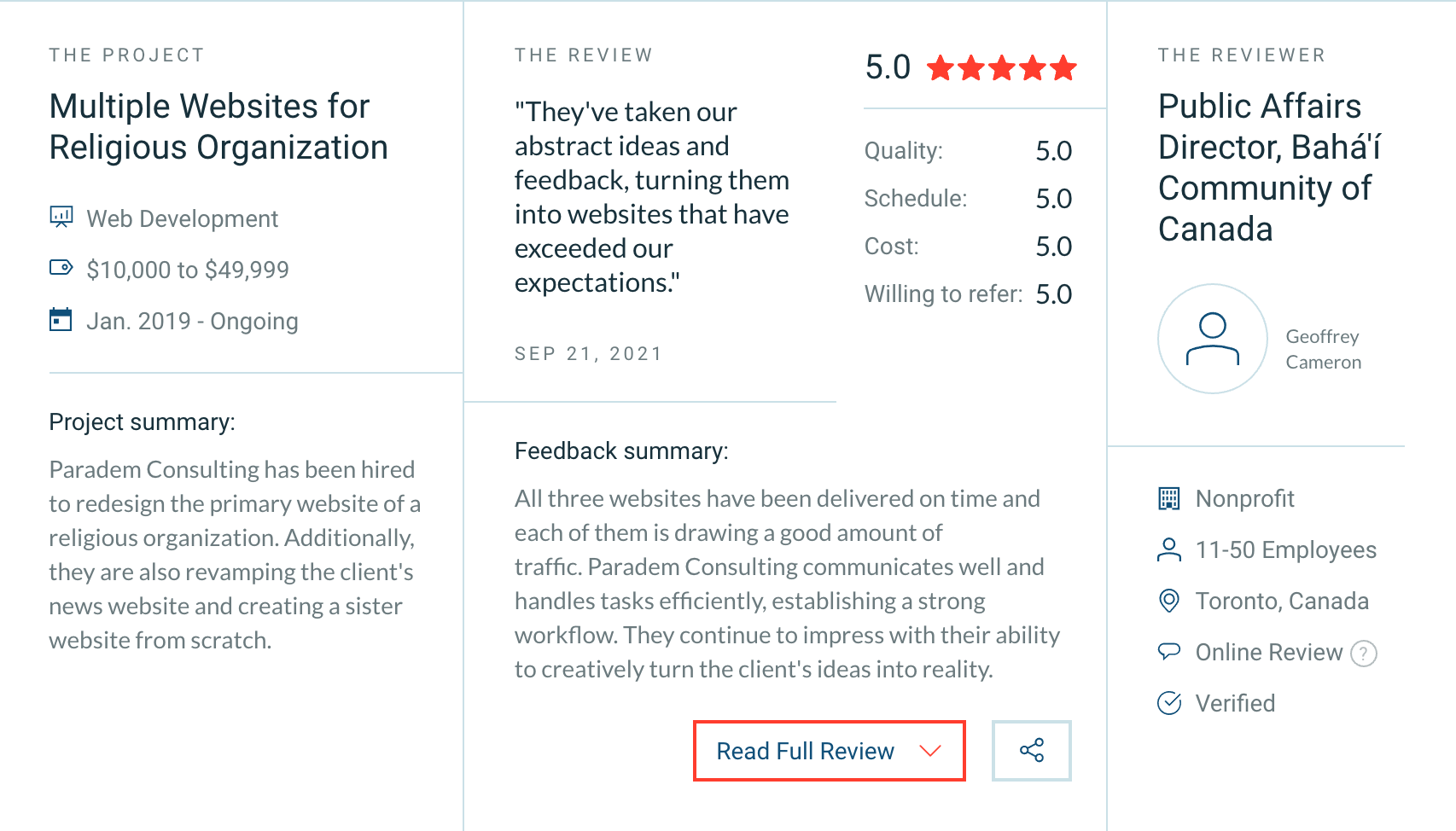 The public affairs director of Bahá'í Community of Canada wrote their feedback regarding our long ongoing partnership with their organization. Back in January 2019, we started working with them to redesign and redevelop their website, and over the years, we've created several more platforms for them. The challenge was to produce three completely different websites that are still connected by similar design principles.
Just like with any other engagement, we kicked off the partnership with several rounds of consultations and discovery discussions to have a clearer grasp of what they wanted and needed. Here's what they said about the progress and our company:
"Our main website attracts about 50% more users now than before it was redeveloped. The secondary websites have also seen new and increased traffic. The new sites are also more visually attractive, and it is much easier for us to keep them updated with new content.
They developed beautiful and accessible websites that we have been able to update and grow over time. They've taken our abstract ideas and feedback, turning them into websites that have exceeded our expectations." — Public Affairs Director, Bahá'í Community of Canada
Insights and results like this keep us going. We are genuinely proud of the work we put in to help each and every one of our clients. This case is just one of many, and we can't wait to see what else our other clients have to say.
Thank you to the Bahá'í Community of Canada for entrusting us with this remarkable project! It's a great pleasure for us to work with you, and we look forward to welcoming more projects with you!
Take a look at the full scope of the review by visiting our profile on Clutch !
An award from The Manifest, a blog resource, makes our debut on Clutch sweeter. In their latest study, The Manifest found Paradem as one of the most prominent software development companies in Canada!
It's a big honor for us to be appreciated by our clients and be seen by industry experts. We hope to continue to do what we do best, and help more companies worldwide!